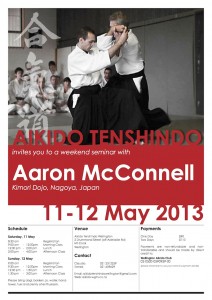 We are excited to announce Aaron McConnell from the Kimori Dojo, Japan.
Aaron is living in Japan and has been training at the Kimori Dojo for many years. He is an inspiring teacher and is one of the top students of Sawada Sensei.
There will be a dinner on Saturday night 11 May at the Craftsman (alternative at the Bristol), details to be confirmed at the seminar.
Email us to register:
aikidotenshindowellington@gmail.com
Download the poster:
Aaron McConnell Wellington May 2013 [139 KB PDF]