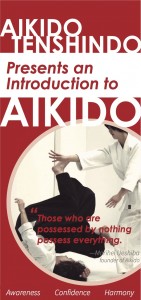 We are very happy to announce our new regular feature: Introduction to Aikido.
Introduction to Aikido course is a great way to learn first-hand about the martial art of Aikido. The course is suitable for anyone 16 years or older and does not require any prior experience in martial arts.
To register please fill out the on-line registration form.
What:    Introduction to Aikido
When:   Mondays of 4, 11, 18, 25 November
Time:     6-7pm
Where: Aikido Tenshindo, 2 Drummond Street, Wellington
Cost:     $20 (payable at the first class)